A flagship without compare, the Queen Mary 2 is the most glamorous way to travel across the Atlantic. Celebrating Cunard's transatlantic pedigree, this sophisticated gin is infused with luscious botanicals – apple, cinnamon, cherry and raspberry leaf.
Please note: we regret we can only sell and deliver Pickering's Gin to addresses in the UK.
United by luxury and heritage, Pickering's and Cunard proudly present: 3 Queens Gin.
Inspired by Cunard's three legendary ships and their elegant sophistication, we have selected and balanced botanicals that are emblematic of each Queen's route around the globe today.
10% of each bottle sold directly from our website or distillery is donated to Cunard's nominated Charity, the Princes Trust.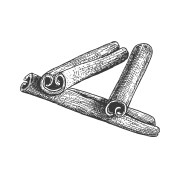 Fever Tree Indian tonic water, sliced green apple, mint and a raspberry.