Is it a whisky? Is it a gin? It's Pickering's Oak Aged Gin – gin distilled in the usual way, then aged (finished) in a Scotch whisky cask. In this case, a whisky cask from the Islay region.
Please note: we regret we can only sell and deliver Pickering's Gin to addresses in the UK.
On the nose: Fresh, woody pencil shavings and toasted malt cereal. Slight salt and white pepper heat. Hints of fresh cut grass with gentle peat underneath.
On the palate: Creamy, salted butter and subtle vanilla fudge notes. Slightly oily mouthfeel followed by gentle, sweet bonfire smoke. Cheeky undertones of lemon citrus leaning into mild pepper heat on the finish.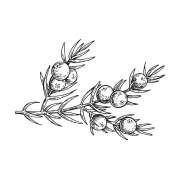 The small island of Islay is home to Scotland's most powerful and peaty whiskies.

Serve short: neat or on ice, like your favourite whisky.
Serve long: ice, ginger ale and an orange twist.