Is it a whisky? Is it a gin? It's Pickering's Oak Aged Gin – gin distilled in the usual way, then aged (finished) in a Scotch whisky cask. In this case, a whisky cask from the Island region.
Please note: we regret we can only sell and deliver Pickering's Gin to addresses in the UK.
On the nose: Beautifully delicate. Hints of toasted marshmallow and log fire open up into soft, damp hay with mellow, earthy, peated notes on top.
On the palate: Wonderfully complex. Brief umami turns quickly into explosive warmth and an oaty, vanilla sweetness. A touch of smoke supports the spiced botanicals leaving a trace of peat on the tongue for a smoky finish.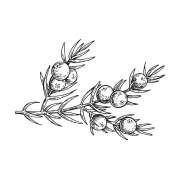 The whisky distilleries from this region – Orkney, Skye, Mull, Arran and Jura – often share a salty, maritime character.

Serve short: neat or on ice, like your favourite whisky.
Serve long: ice, ginger ale and an orange twist.